"Wie verrast wil worden door een dichterschap dat in kleur, en niets dan kleur,
essentiële spanningen en harmonieën waarneembaar maakt,
raakt niet uitgekeken op het werk van Marianne Benkö"
Hella Haasse, 2004
---
Marianne Benkö
Schilderijen en Wandtapijten
Paintings and Tapestries
---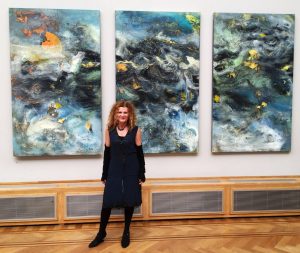 Komende Expositie/ Coming up exhibition
---
In deze periode kunt u afspraak maken voor atelier bezoek als u een kunstwerk in werkelijkheid wilt bekijken. Maak hier een afspraak
Ode aan de natuur,  01-09 t/m 26-09-2021, Jubileum expositie Haagse Kunstkring
NAJAARSSALON, 02-10 t/m 24-10-2021, Pulchri Studio Den Haag
---
Over/ About
Nederlands
Onze emoties overvallen ons en het beleven ervan is als het bevaren van een uitgestrekte zee zonder kaarten of navigatie instrumenten. Geen ster geeft ons de richting aan en ervaring is slechts in zeer beperkte mate een leidraad voor de toekomst.
We hebben het vermoeden van een samenspel tussen onze duistere en onze lichte kanten en zien hoe ze op het linnen toch op een of andere wijze in harmonie met elkaar komen te verkeren. Dat maakt dat het schouwspel van ons bestaan ons toch nooit berooft van de hoop.
Frans Jeursen, kunst historicus, filosoof

English
Our emotions sweep us along and experiencing them like sailing a vast sea without detailed maps our instruments of navigation. No star is present to show us the direction and past experience only partly offers us a guide for the future.
We surmise an interplay between our dark and our light sides and discover that on the canvas they somehow reach a state of harmony. This is the cause that the spectacle of our existence yet never robs us of hope.
Frans Jeursen, art historian, philosopher